On October 5, 2017, the South Carolina  Bar and WSPA TV co-sponsored Ask A Lawyer where members of the Spartanburg County Bar answered over 100 telephone calls providing free legal advice and referrals. Those participating  were L-R  Edwin McDonnell, Daniel Alexander, Lauren Ward,  Richard Vieth, Edwin Haskell and Wesley Stoddard.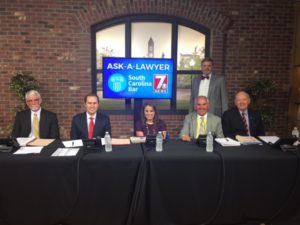 Spartanburg County Judicial Center Project
Please join us for a presentation and information session on the proposed Spartanburg County Judicial Center Project.  The meeting will be on Thursday, October 5, from 5:30 PM to 8:30 PM at Cleveland Park Event Center, 141 North Cleveland Park Drive, Spartanburg, SC 29303.  Your input and support are very important.  Complimentary drinks and bites from Cribb's Catering follow the presentation.
We look forward to seeing you there.
Please respond to me by Tuesday, October 3, if you are able to attend.
Thank you.
Roxanne Reynolds,
Assistant to Secretary/Treasurer
Spartanburg County Bar Association