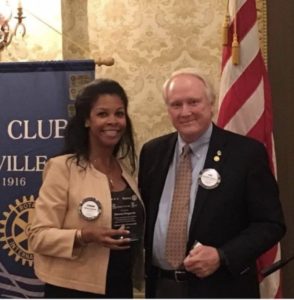 Congratulations to Stinson Ferguson on being honored Rotarian of the Year (Rotary Club of Greenville)!
_________________________________________________________
Letter From Jim Hudgens:
Colleagues; This email is long overdue.
I was diagnosed with ALS in March, 2013. This diagnosis was probably delayed by two years at least, if not longer, though it would not have made any difference.
Since my diagnosis I have been inundated with expressions of support and good will from members of the Bar Association and others. Mostly these have been from the older members. These have been in the form of personal visits, cards and letters, emails, phone calls, flowers, peaches, and even one watermelon. There have been three ice bucket challenges. I am writing to, belatedly, express my deepest appreciation to all of you. I have filled several scrapbooks.
I practiced law here for 42 years as a civil litigator. I loved the practice of law. I loved being around lawyers, judges, and the rest of the courthouse crowd including court reporters, law clerks, bailiffs, clerks of court and security personnel. I had a professor at UT Law School who used to say that lawyers are the only people who know how to think. I think he was right.
Over the years I handled thousands of civil law suits and I tried hundreds of them to a jury or bench verdict. I handled every kind of civil suit imaginable and I always tried to have fun, which I did.
Some of you have already heard me say this: I would estimate that 85-90% of my cases were settled by way of compromise. This makes me wonder why the members of the political class in Washington cannot ever seem to compromise. Perhaps they suffer from the same foot spurs that President Trump has. I think that President Trump would have benefited from going to law school.
Thank you. Thank you. Thank you. Comments welcome, though not expected.
Jim Hudgens